Adobe Photoshop CS6: The Demise of Print Size Command
I teach a lot of Adobe Photoshop classes, and have done so for the past 20 years. Somewhere along the way, I stopped mentioning the 5th zoom command in the View menu: Print Size. Not sure when, not sure why, other than perhaps I realized that I never, never used it in "real life". You can see it in the View menu in Photoshop CS6 (version 13.0.1):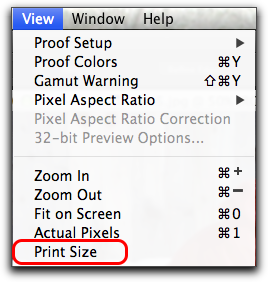 When you install Photoshop for the first time, you are asked if you would like to send usage information to Adobe. If you opt in, my understanding is that Photoshop sends a record of where you click back to Adobe, allowing their software engineers to analyze how we are using the software. This tells them, among other things, which commands we use a lot (i.e., the automatic image correction commands) and which ones aren't used much at all. The feedback has already had a major impact on CS6: once Adobe realized that we love those auto commands (even though we pretend that we rely solely on Levels and Curves), they set to work making them better.
I installed the latest patches for CS6 today, bringing Photoshop up to 13.0.3. Lo and behold, when I pulled down the View menu, there was a very subtle change: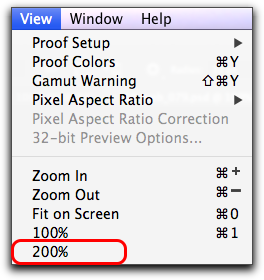 Evidently, I wasn't the only one ignoring Print Size. It was very quietly retired, and replaced with 200% magnification. Will I use that? Probably not. I have other favorite ways to zoom in and out, but I bet my novice students will love it.
Here's my tip: if you like it, you better use it. If you don't, it may well go the way of the Print Size command.
NOTE: The Print Size command was restored and the 200% magnification was removed shortly after this article was written via a CS6 patch. In Photoshop CC, both are now listed after 100% magnification.
If you'd like to receive notifications about future Rocky Mountain Training blog posts, our classes, or just want to stay in touch, please like our Facebook page.