Meet our instructors
Why choose Rocky Mountain Training?
We use Adobe Certified Instructors. The Rocky Mountain Training instructors have Adobe Certified Instructor status (see About Adobe Certification for details). Three of our instructors, Barb Binder, Kevin Siegel and Khaled Hadi have been recognized as Top Five Most Highly-Rated Adobe Certified Instructors, Worldwide by Adobe Systems, Inc.
What makes us different from other instructors?
We do what we teach. In addition to our teaching credentials and passing all of those ACE exams, all Rocky Mountain Training instructors work outside the classroom in their fields of expertise: either in print publications, ePubs, web publishing, or all three. This is a very important consideration when selecting a training company, because many trainers only know what is covered the classroom materials, and have no practical knowledge beyond the courseware. The Rocky Mountain Training instructors have years of hands-on experience and will be able to help streamline your production workflow and answer your most difficult questions.
Does this sound too good to be true?
Read what our students have to say about their experience in our classrooms: Rocky Mountain Training testimonials. Check out our Yelp reviews and our A+ rating from the Better Business Bureau of Denver/Boulder, which we have maintained since joining in 2009.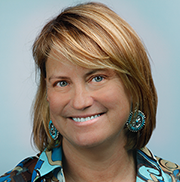 Barb Binder, ACI, CTT+
View my LinkedIn Profile
Follow me on Twitter
Barb Binder is the owner of Rocky Mountain Training in Denver, Colorado.
Barb is an Adobe Design Master on the Creative Cloud publishing applications, and an Adobe Certified Instructor on FrameMaker, InDesign CC, InCopy CC, Photoshop CC, Illustrator CC and Acrobat Professional. In her spare time, she stays busy supporting the local Adobe community: as a member of the Adobe Certified Professional program she is an active volunteer answering questions on the Adobe forums, and she runs the Denver Adobe Creative Cloud User Group in Denver.
Barb started in the publishing field in 1986 with Pagemaker's first release for Windows. She has been delivering corporate training since 1987, starting out in the Washington, D.C area. She moved to the foothills west of Denver to escape the congestion and the craziness of life "inside the Beltway" in 2005. (Access to the fabulous skiing and living the outdoor life may have had a little something to do with the move, too.)
Barb has been an Adobe Certified Instructor on multiple programs since the inception of the program in 1997 and has been hired to teach "train the trainer" courses to help other instructors pass the rigorous Adobe Certified Expert exams and CompTIA Certified Technical Trainer (CTT+) exam.
Adobe Systems, Inc. recognized Barb Binder of Rocky Mountain Training as one of the Top Five Most Highly-Rated Adobe Certified Instructors, Worldwide.