Adobe InDesign: Adding Arrowheads to Strokes
I was teaching InDesign yesterday to two delightful women in Denver. We were wrapping up our day-long session when one of them asked me about creating arrowheads on the ends of their lines (aka "strokes"). Initially, I drew a blank. One of the interesting side effects of teaching lots of programs is that sometimes the answer in a different program pops up in my head and refuses to get out of the way to make room for the answer in the right program. Arrows in Photoshop? Got it! Arrows in Illustrator? Got it! Arrows in InDesign? I had nothing.
Another interesting side effect of teaching lots of programs is that sometimes the right answer in one application is the right answer in another. I held a rapid, silent conversation with myself:
Me: "Well, where are the arrows in Illustrator? Didn't they move to the Stroke panel in CS5?"
Me: "Hey! InDesign has a Stroke panel. Does it have arrows?"
Me: "IDK. Quick, go take a look…Yay!"
Phew! I passed for knowledgeable, when in fact, I may have just gotten lucky. Or not. I had already shared my feelings earlier that morning about how fabulous it is that the primary Creative Suite applications do so many things the same way. This little episode was great way to illustrate that to my students, who plan on continuing their Adobe education on the Creative Suite apps.
Anyhow, if you want arrows in InDesign, it's pretty darn easy once you remember where the command is:
Select the Line tool.
Press down your left mouse button and drag out a line. (Hold the Shift key to constrain the line to 45-degree angles.)
Choose a stroke color and line height from the Control panel, if desired.

Change the Start and End points to arrows or tails.
NOTE: Your Stroke panel may not show the arrowheads automatically. If you don't see them, just pick Show Options from the Stroke panel menu.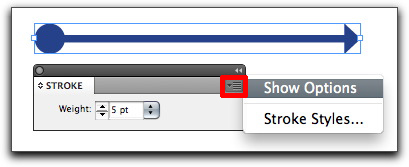 Have fun!
If you'd like to receive notifications about future Rocky Mountain Training blog posts, our classes, or just want to stay in touch, please like our Facebook page.