Adobe FrameMaker 10: Why are there Checkmarks in the Catalogs?
by Barb Binder
When I started working in Adobe FrameMaker 10, one of the first differences I noticed was the appearance of checkmarks in front of the formats in the various Catalogs. My first guess was that they indicated whether a format was being used in the document, or not. But I would see checkmarks on formats I wasn't using (i.e., CellBody) and when I applied a format, sometimes the checkmark didn't show up. At least not right away.
After doing a little research, it turns out, I was right about the checkmarks. They do indicate format usage within a document. In the example below, the poem starts out using the Body format, and is appropriately checked.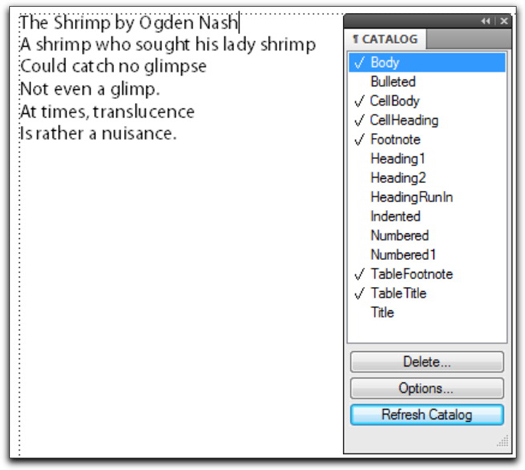 When I assign a Heading1 format to the title, a check should appear in front of the Heading1 format. It might appear right away, but the only time you can count on FrameMaker accurately updating the list is when a file is being opened. For that reason, Adobe gave us a Refresh Catalog button. Clicking it makes FrameMaker refresh the list to show an accurate accounting of the used and unused formats.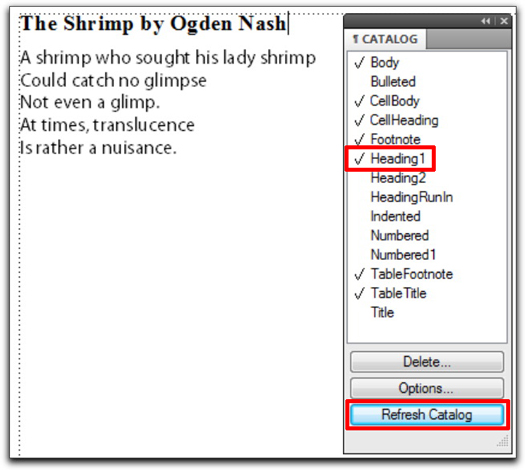 While we are examining the buttons at the bottom of the Catalogs, take a look at the new choices under the Options button. For the first time we have the ability to sort the items in our Catalogs, and to safely delete all unused formats. Nice! (Note: the sorting and display options you apply in one document will also be applied to all of your other documents. Don't worry, you can change them back at any time.)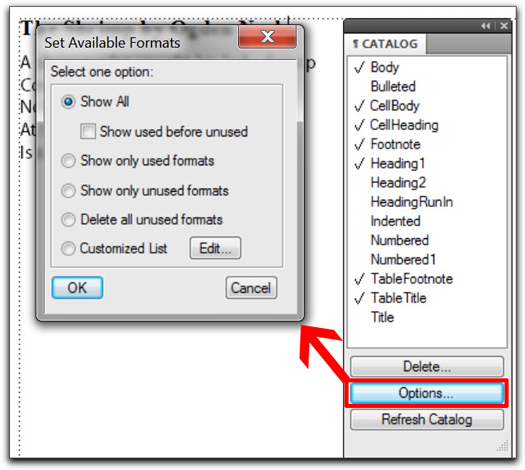 Now, if you are wondering why I still haven't addressed the checkmarks in front of the 5 formats (CellBody, CellHeading, Footnote, TableFootnote & TableTitle) that are not yet used in the document, it's because I can't find a precise answer on Adobe's website. But here's what I think: since those five formats are automatically applied when you insert a footnote, a table footnote and a default table, FrameMaker has them identified, and they are ready to go when you need them.