Adobe FrameMaker: The Page Count Variable for Books—Part II of II
by Barb Binder
In a previous post (Adobe FrameMaker: The Page Count Variable for Chapters—Part I of II), we learned how to track and reference the page count of a single chapter. But what about trying to keep track of the last page of a multi-chapter book? That question was posed recently by one of my Advanced FrameMaker students. Turns out it can be done, it just takes a little creativity and more than a little patience. (If you need it, though, it's well worth the effort.)
Here's the big picture: you are going to insert a frame on the first page of the last chapter of your book, add the page count variable into the frame, and hide the evidence. You'll finish up by adding a cross-reference to that variable in the running heads of all the master pages of your book.
Note: Before you start, make sure you have your page numbers displaying properly in your running heads, and that you have set your Page Number properties set to Continue Numbering from Previous Page in Book.
To add the final page count of the book to your running heads:
Open the last chapter in the book list and add a frame in the margin:
Add the Page Count variable to your frame:
Hide the variable from your readers:
The next step is to add a cross-reference to this now-hidden text.
Wow—almost there! Finish up by putting the cross-reference in the running heads on each master page of that file. Save your work!
To add the updated running head to all the other files, use File > Import > Formats to import the new cross-reference format, the page layout format and the new paragraph format to the other chapters in your book.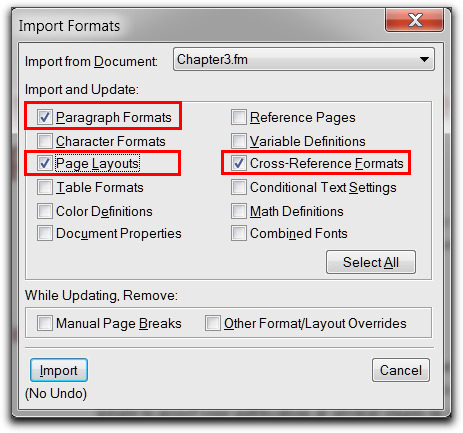 Fussy? Yes! But it works.