Adobe FrameMaker: Removing bold from page numbers in a table of contents
by Barb Binder, Adobe Certified Instructor on FrameMaker
Updated: May 23, 2020
I like mixing bold headings in my table of contents with regular weight text, but I don't like the bold leaders and page numbers that go with it: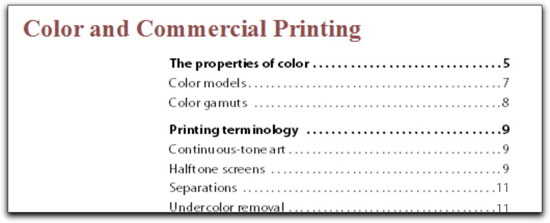 I just think it looks awkward. My preference is to leave all of the generated paragraph formats in regular weight, and then use a character style to bold just the heading. Here's how:
In your table of contents (TOC), use the Paragraph Designer to set up the initial formatting for your text. Leave everything as regular weight.
Create a character style to set the weight to bold. I called mine "Bold".

Choose View > Reference pages and navigate to the TOC Reference Page.

Select the <$paratext> building block for the paragraph formats you would like to bold, and apply the Bold format from the Character Catalog.
Save your work and return to the Body pages.
Update the TOC to see the change applied.

More posts on using generated files in FrameMaker
Adobe FrameMaker: What to know about working with generated files
Adobe FrameMaker: Including chapter numbers in a table of contents