Home
/
Adobe Acrobat
/
Adobe FrameMaker: Rely on System Fonts Only, Do Not Use Document Fonts
Adobe FrameMaker: Rely on System Fonts Only, Do Not Use Document Fonts
by Barb Binder
Picture this: you've finished up a project using FrameMaker (or InDesign, PageMaker, Word, Publisher) and all you have left to do is create a PDF. Sounds simple. You've done it before and you know what to do. But your work comes to a screeching halt when this error message appears on your screen: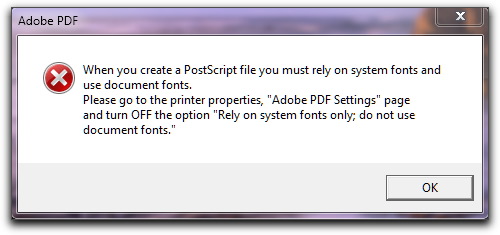 Great.  Now what? It's actually an easy fix and there are two ways to do it: via FrameMaker or via Windows.
FrameMaker Fix
File > Print
Click on Setup
Click on Properties to open the PDF Settings Dialog box
Uncheck "Rely on system fonts only; do not use document fonts"
Pick OK, OK, and Print
Windows Fix
Open the Control Panel
Navigate to Hardware and Sound > Devices and Printers > Printer and Faxes
Uncheck "Rely on system fonts only; do not use document Fonts"

Click on OK, and you have set your defaults for future PDF documents
Go back and recreate your PDF (If you need help creating a PDF from FrameMaker, see "Adobe FrameMaker: Creating PDFs".)
Great! It Works, But Why?
So what exactly does this mysterious setting do? When you deselect "Rely On System Fonts Only; Do Not Use Document Fonts" you are allowing Acrobat to download your fonts when the PDF is created. All your fonts will be available in the PDF, but it will take longer to create it than if you left the checkmark on.
NOTES: In older versions of Acrobat the wording was a little different: "Do not send fonts with Adobe PDF". In any version, Adobe recommends that you leave this option selected if you are working with Asian-language documents