Adobe FrameMaker 11: Missing Zoom Commands
Haven you taken a look at the Zoom pop-up menu in FrameMaker 11? It's sporting a new look. Compare the FrameMaker 10 Zoom menu on the left, with the FrameMaker 11 Zoom menu on the right: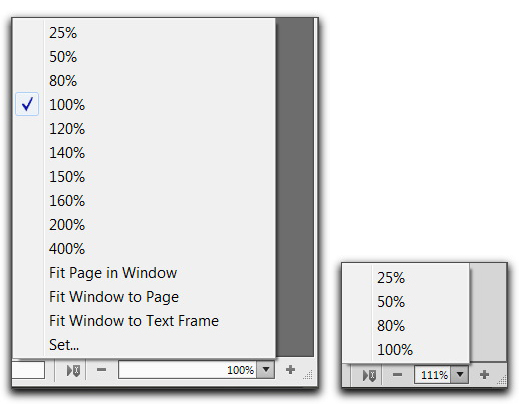 Is it just me, or are we missing a few commands?
This could be a new feature of FrameMaker 11, but a quick look at the online help for FrameMaker 11 still shows references to the Set command and Fit Page in Window, so I'm leaning towards bug. (At this writing I'm on FrameMaker 11.0.0.380).
No software is perfect, and new releases always have issues to resolve, but what are we supposed to do in the meantime? The only answer I can come up with is keyboard shortcuts. (And truthfully, I've always found the Zoom menu to be a clunky way to handle magnification, so I adopted these shortcuts years ago.)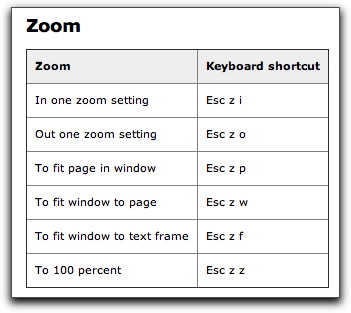 The table above is a screen shot from the FrameMaker 11 online help, and has remained constant since I started working with FrameMaker 20 years ago. The trick to using FrameMaker shortcuts is to remember that they are sequential: tap each key in succession, not all at the same time. They are case sensitive, so Caps Lock will render them useless. If you find them hard to learn, try using mnemonics. I say "Escape zoom in" as I tap Esc zi, and "Escape zoom page" as I tap Esc zp. I have no idea what Esc zz stands for, so I opt for "Esc zoom zoom".
For those of you new to FrameMaker Esc key shortcuts, one more general rule is that Adobe will often use the first letter of the menu, followed by the first letter of the command. If you were in charge of creating a shortcut to access the Set command, which is currently missing from the Zoom menu, what would it be? If you guessed Esc zs, you are correct!
NOTE: The missing commands were restored as of version 11.0.2.324. If you are using FrameMaker 11, and they are still missing, choose Help > Updates to install the current patch.
If you'd like to receive notifications about future Rocky Mountain Training blog posts, our classes, or just want to stay in touch, please like our Facebook page.