Adobe FrameMaker: How to Restart a Numbered List
by Barb Binder, Adobe Certified Instructor on FrameMaker
Updated Mar 21, 2022
FrameMaker offers us two ways to restart numbered lists in our documents: a manual technique and an automatic option.
Restarting a List Manually
Let's start by examining the manual option, which is built into the Paragraph Catalog of all new FrameMaker documents.  If you take a look at Numbering properties in the Paragraph Designer of Numbered and Numbered1, you'll see that Numbered uses the <n+> building block, which adds 1 to the current counter and displays the results: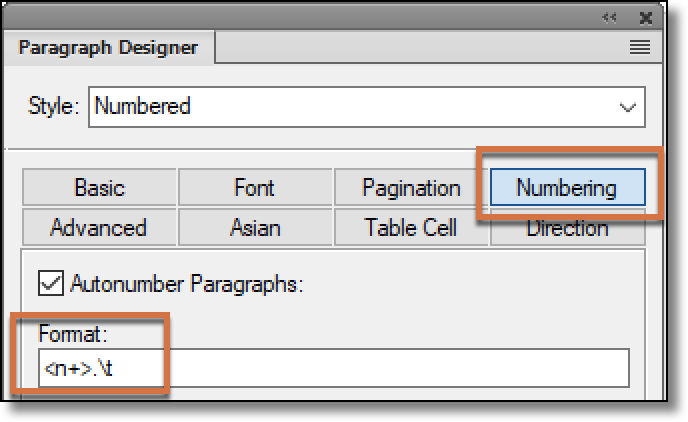 Numbered1 uses the <n=1> building block to reset the counter back to 1, and displays the results: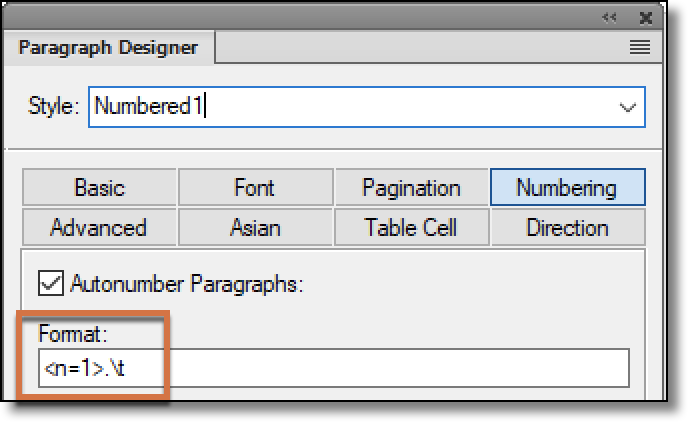 When we are using these default formats, or others based on the same logic, we simply assign Numbered1 to the first list item of every single list, and Numbered to the remainder of the list items. It's a little clunky, but it works. Is there a better way? You bet.
Automatically Restarting a List
The more advanced way to reset your lists back to 1 again is assign the job to a different paragraph. You'll need examine your document to determine which format always appears between the numbered lists. For me, it's Body, but this will depend on your formatting. Once you determine which format to use you can give it the job of resetting the counter, whenever it appears. Here's how:
1. Use only the <n+> building block to set up your lists.
2. Place your cursor in a paragraph that always appears before each new list. In my example, it's Body.
3. Open up Numbering Properties in the Paragraph Designer.
4. Begin by assigning the building block <n=0>. It's not in the building block list, so you'll have to type it in, and then click Update Style.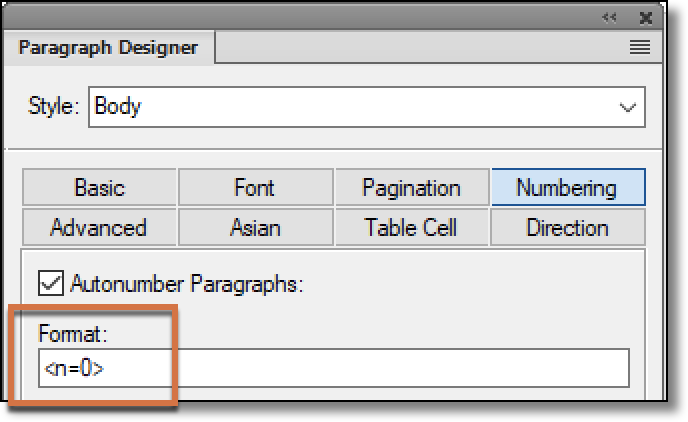 5. Don't panic that you now have a 0 in front of every Body paragraph format. That's what <n=0> does—it sets the counter to 0 and displays the results. Focus for a moment on the actual lists in your documents. Are they all restarting with 1, even without the use of the <n=1> building block? If yes, continue reading. If not, maybe the paragraph you selected doesn't really appear between each list. Hit Undo and find one that does.
6. Once you can see how using another format to reset the list works, it's time to hide the zeros. All you need to do is change <n=0> to < =0> (just change the letter n to a space) and pick Update Style.
Here's why it works: while <n=0> tells FrameMaker to reset the counter to zero, and display the results, < =0> tells FrameMaker to reset the counter to zero and NOT display the results. How cool is that?