Home
/
Adobe Acrobat
/
Adobe Acrobat 9: Think Reader Can't Do That? Presto! Now it Can!
Adobe Acrobat 9: Think Reader Can't Do That? Presto! Now it Can!
If Acrobat was free, everyone would own it. Acrobat is a very sophisticated application allowing you to work with, create, enhance and edit those amazing PDF files.
Sadly, Acrobat isn't free and not everyone owns it. People who do not have Acrobat still need to work with PDF files, which is where Adobe's free Acrobat Reader comes in. Reader, a very capable piece of software in its own realm, allows you to browse, print and interact with PDFs.
However, Reader is a Read-Only application… at least that's what most people believe. Why? When downloaded and installed on a computer, Reader is in fact just a Read-Only application. But that is only true for some PDF files.
A PDF file can be given the ability to save form data (from a fillable PDF form), have comments and markup added and signed digitally… in Reader! These special fortifications to a PDF file must be enabled in Acrobat itself (not Reader), and are applied to PDF files individually.
To add these capabilities to a PDF file, you must have the PDF file open in Acrobat. Then choose Advanced > Extend Features in Adobe Reader. Acrobat presents an information dialog box which explains what capabilities are being added.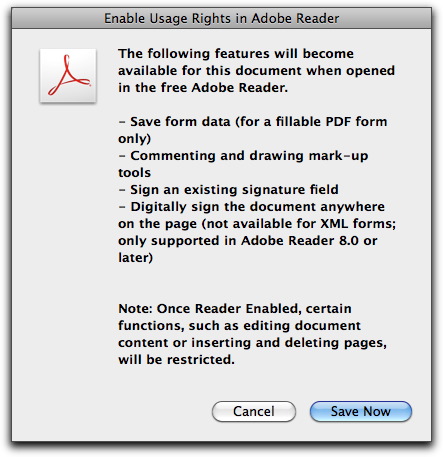 Once enabled, the PDF can't be edited. For this reason, Adobe has wisely given you a button labeled Save now, which opens the Save As dialog box and allows you to give this super-charged PDF file a unique name (preserving the original PDF for possible future edits).
Send the enhanced PDF to someone who has only Reader, and they will see that the document's capabilities are extended and they will be able to utilize the file in ways otherwise impossible in Reader!