Adobe FrameMaker: Which PDF Job Option Is Right For You?
By Barb Binder
Let's say you have finished up a publication in Adobe FrameMaker and are ready to deliver the finished product. It seems like a straight-forward process: you choose Save as PDF from the File menu and give the file a name. You click the Save button, thinking, "That was easy." when suddenly you are confronted with the following dialog box: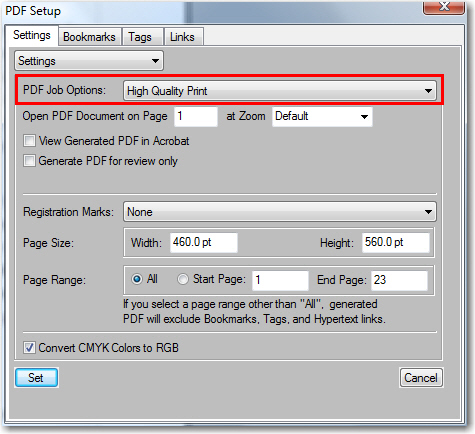 Most of this screen is self-explanatory, but the most important option in there, the PDF Job Options menu, is most certainly not. What's a girl to do? It's critical that you pick the right option because these settings have a direct impact on the size of the file created, and do so with wildly varying compression settings.
These settings are designed to balance file size with quality, and depend specifically on how the PDF file will be used. Here's a quick list of which one to pick for a given situation:
| | | |
| --- | --- | --- |
| Job Option | Destination | Key Features to Remember |
| Press Quality | Commercial printer | Minimal image compression, but fonts must be successfully embedded or the job will fail< |
| High Quality | Commercial printer | Minimal image compression, but if the fonts can't be successfully embedded, Acrobat will warn you, but continue to create the PDF |
| Standard | In house printers | More aggressive image compression, fonts will be embedded. Suitable for printing on your local printers. |
| Smallest File Size | E-mail | Very aggressive image compression (which creates a small file with enough pixel data to look good on screen, but will not be acceptable in print). Fonts are not embedded as a default, but this can (and should) be changed. |
| Oversized Pages | Engineering Doc | Suitable for drawings over 200 inches x 200 inches. |
| PDF/A-1b | Storage | Both CMYK & RGB versions are use for long-term preservation of electronic documents. |
| PDF/X-1a | Commercial Printing | Typically used for ads, focus is on reducing variables to ensure reliable printing |
| PDF/X-3 | Commercial Printing | Similar to PDF/X-1a, but supports a color-managed workflow and some RGB images |
| PDF/X-4 | Commercial Printing | Similar to PDF/X-3, but supports live transparency |
Using this table, you can make educated decisions about which Job Option to pick for your files. Mine typically go through several:  I use Smallest File Size to return documents to clients for proofing, Standard for posting the finished files on a web site, and one of the commercial printing options when the files are heading out for high-res printing.
Let me leave you with the most important advice of all: if your files are heading out for commercial printing, don't just pick one of these without first talking with your printer. They will know exactly which one you should use that will work best with their equipment. Many service bureaus will opt to send you their own custom Job Options file that has been tweaked to work perfectly with their particular equipment. When you are sending files out for printing, always pick up the phone first.