Acrobat X: Help… Anywhere!
It's one of the first things I teach in any Acrobat class.  The Acrobat Help System is available with a quick press of the F1 key.  It's been that way for as long as I can remember.  Regardless of the version of Acrobat you are using, F1 has brought you to its Help file.  What varies from version to version is the type of file it presents, and therefore the program in which it opens.  Later versions were HTML based documents, and opened up in your default browser.   In Acrobat 9, pressing F1 opened your browser and presented an HTML help file that was on your hard drive.  I was a little surprised to see what happened when I pressed F1 in the brand-new Acrobat X.  My browser opened and the Help file was offered for my use, but I quickly noticed that the browser's address bar indicated that this was not a LOCAL file on my hard drive, but an HTML file located on Adobe's server.
Is this a problem?  No… unless you're at 36,000 over the Rocky Mountains in a 747 or inside the walls of a highly secure workspace.  There are times that the internet is just not accessible.  I found a neat way to make sure that Acrobat's Help file is at your fingertips at all times.  From a computer with Acrobat X installed (and internet access), press F1 from within Acrobat.  This will open the online Help file in your browser.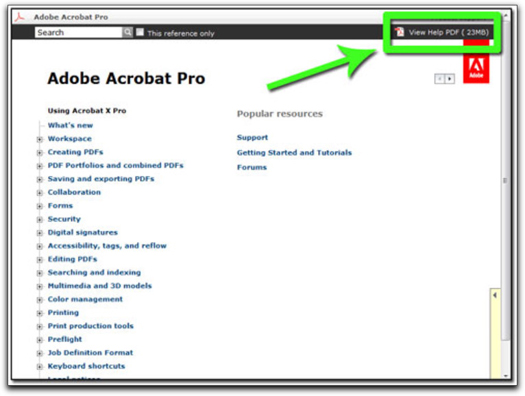 In the upper right of your browser window, look for a link that reads View Help PDF (23 MB) and click it.  This will load a PDF version of the Help file into your browser window, or you can right-click on the link and opt to save the file to your computer.  I have mine saved to my desktop, so it's available and easy to find – even at 36,000 feet!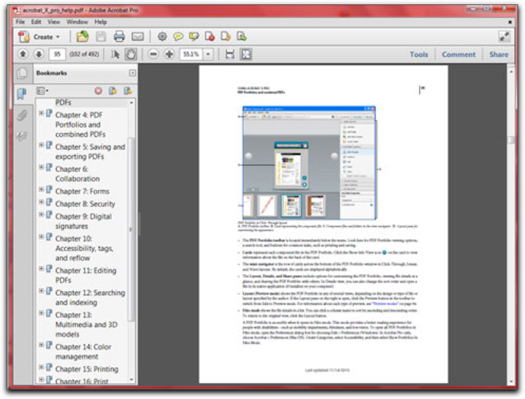 Since Acrobat X's help file is online, you only need a url to see it – enjoy: http://help.adobe.com/en_US/acrobat/pro/using/index.html
Want to learn more about Acrobat?  The Acrobat world is vast and growing constantly.  Don't get left behind. To learn more about my Acrobat classes, take a look at my online class listings.  If you want extraordinary PDF files instead of ordinary ones, why not join me in class?