Advanced Adobe InDesign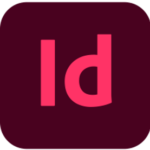 Design professional layouts for print and digital publishing
Adobe® InDesign® CC is a versatile page layout application that gives you precision and control over design and typography. Create elegant and engaging pages for print, screens, and tablets. You can use InDesign to easily adapt layouts to look great on a variety of devices.
Online Class Times:
10 am to 5 pm Eastern
Choose Your Online Training Dates:
Course description
As with all of our classes, our Advanced InDesign classes are hands-on and project-driven. In this 2-day advanced class, we will work on enhancing the quality of the type with a lesson on advanced typography, styles (paragraph styles, character styles, object styles, cell styles, table styles and GREP styles), best practices for working with Photoshop and Illustrator graphics, formatting tables, and printing and exporting. For more details on the specific features covered, see the list under Class Topics.
Because students will work along with the instructor to complete a series of projects, we recommend using two displays in our online classes (this could be two monitors, two computers or a computer and a tablet), so that the student can keep one eye on the instructor's screen as they work.
An eBook copy of the workbook and the data files will be sent to you prior to the start of the class.
Who should attend an Advanced InDesign Training Class?
This class is designed for someone who has either completed the Introduction to Adobe InDesign class, or has been using InDesign long enough to feel comfortable designing basic documents. The focus of this class is to locate and fill in the gaps in your knowledge while streamlining your workflow using the more advanced features of InDesign. Layout is a deadline-driven business, and this class will help you get your publication to the printer in a timely manner and still have your nights and weekends for yourself. As with all of our advanced classes, we welcome all of your questions, so feel free to bring a list to class and your instructor will try to work in as many into the class as possible.
Prerequisites
Students attending this training class should have completed our beginning InDesign class, or have equivalent experience. If you are not sure, please reach out to us at 303-319-9817 or email info@rockymountaintraining.com and we will help you find the right class.
Class Topics
Working with typography
Learn how to fine-tune your typography, including drop caps for leading the eye into a paragraph, hanging punctuation, precision line-and character-spacing controls, glyphs, tabs, paragraph rules and how to automatically balance text in columns.
Working with styles
We review the use of paragraph and character styles, plus how to nest character styles within a paragraph style, and learn how to define and apply object styles, table styles and cell styles.
Creating tables
Learn how format a table with header rows, graphics and row/column patterns, and how to save the formatting as table, cell styles and paragraph styles.
Importing and modifying graphics
Learn how to make the Links panel work for you, and how to optimize Illustrator and Photoshop files for use in an InDesign layout using layers, layer comps, alpha channels and paths.
Output and exporting
Learn how to use the Preflight and Package commands when preparing files to send out for commercial printing. Creating a "good" PDF document is also covered.
Register For This Online Training Class
Choose Your Online Training Dates:
Related Classes
Explore new paths with the essential vector tool
Adobe® Illustrator® is the industry's premier vector-drawing environment for designing across media. Express your vision with shapes, color, effects, and typography—driven by the new Mercury Performance System so you can make fast work of your most complex creations.
Discover new dimensions in digital imaging
Adobe® Photoshop® delivers imaging magic that helps you bring your creative vision to life. Create compelling images with exceptional precision with the world's best imaging software. Design anything you can imagine—at amazing speed.