Introduction to Adobe XD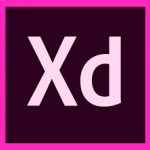 Adobe XD enables UX designers design interactive user experiences for web and mobile apps using a single app.
You can design quick and simple designs on artboards in XD. Then wire the artboards together to create an interactive prototype that you can share and iterate with stakeholders. You can also use plugins to automate repeat operations or parts of designer workflows that are tedious, complex, or repetitive.
Adobe XD integrates well with Photoshop, Illustrator, and After Effects.
You can continue designing in your preferred applications, bring the assets into XD, and then use XD to create and share prototypes. XD supports SVG and bitmap files without any loss of fidelity. You can then enhance the assets further in Adobe XD or use them to develop interactive prototypes.
$795 per person if you register less than one week prior to class.
Choose Your Online Training Dates:
Course Description
Adobe XD is a vector-based tool for designing and prototyping user experiences for web and mobile apps. Switch easily from wire framing, visual design, interaction design, prototyping, previewing, and sharing, all in one powerful tool.
XD is made for all types of creators – UX/UI designers, interaction designers, experience designers, product designers, web designers, app designers, visual designers, entrepreneurs, and more.
Who Should Attend the Introduction to Adobe XD class?
This class is designed for someone who is comfortable using their computer but is new (or fairly new) to Adobe XD. If you want to learn the basics of UX design then this class is for you.
Prerequisites
Students attending this training class should already have a solid understanding of their operating system (Mac or Windows), know how to use their keyboard and mouse, and how to drag a program from one window to the other on a dual monitor system. They should understand how to open programs, open, save and close files, and how to locate files on their computers. This is an introductory class, so no prior knowledge of Adobe XD is required.
Class Topics
Class Topics
Using artboards
Drawing tools
Working with masks
Text tools
Links
Interactions
Preview panel
sharing features
Repeat grid
Importing SVG
Drawing menu icons
Drawing location icons
Drawing search icons
Working with navigations
Designing tags
Drawing repeat icons
Linking screens
Lining transitions
Sharing prototypes
Exporting projects, and more
Register For This Online Training Class
Choose Your Online Training Dates: